When you're ready to build a custom home, it's important to interview several builders before making a commitment. Every builder has different strengths and styles, and you want to be confident that your builder has the same vision for your home's design. In this guide, we'll provide several questions you should ask to ensure that the builders you choose are the right ones for you.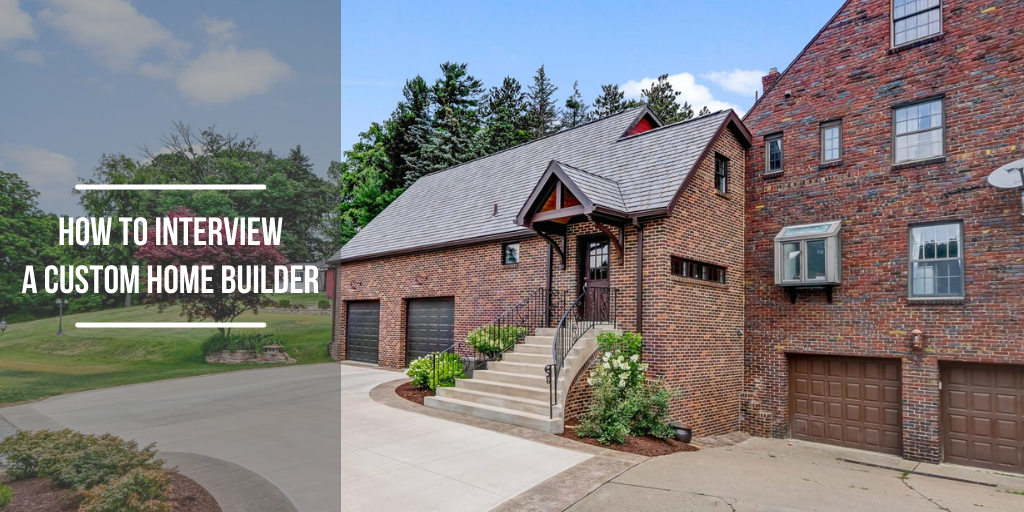 Questions to Ask Your Custom Home Builder
Once you've got a few builders in mind, here are some questions you can consider asking during the interview process.
1. What does your typical design and build process look like?
Ask your builder to explain the typical process that they use to design and build a custom home. At Prime 1 Builders, Inc, we prefer the design build process. There are clear advantages of design-build, including it allows our customers to work with the same firm throughout all phases of your home building project.
2. Do you have the experience building the style of home that I want?
It's important to make sure your builder is comfortable building the style of home that you've chosen. Each style has its own building challenges and you want to be confident that your builders have the experience and knowledge needed to successfully build the home you want.
3. How do you determine the cost for a custom build?
Allow your potential builder to thoroughly explain their budget and estimating process. They should have an extensive plan for determining the cost of your custom home, and you should feel confident about it. Here at Prime 1 Builders, Inc, our design build process makes it easy to estimate the cost at each step of the design process.
4. Who will supervise our project and how long will it take?
Ask about whether a construction manager or project manager will be onsite, and if so, how often they'll be there to oversee the project. Depending on the size and style of your home, it can take anywhere from 6 to 8 months to design and build your home. Your builder should be able to give a solid estimate.
5. Will you be using subcontractors? If so, who and for what aspects of the project?
Your potential builder should be able to explain their building process and can tell you whether they hire out any work to subcontractors. Keep in mind that most builders will hire subcontractors for specialized work, such as electrical, plumbing, flooring and tile installation, to name a few.
6. Do you offer any warranties or guarantees?
Pennsylvania does not require that builders provide a warranty on newly built homes. However, most builders do. Look for a builder who offers a warranty that you can utilize after you've moved into your new home. It should ensure that issues are fixed quickly and that the warranty process works as smoothly as possible. Prime 1 offers a one-year warranty as part of our new home construction contract.
7. How many homes do you generally build in a year? How many can you handle?
This very fair question will give you an idea of the builder's workload as well as their ability to handle many jobs at once. If you get a sense that they're spread too thin, your custom home may not get the attention it deserves, and your building process may be extended months past its completion date.
Because we want to provide all of our customers with the care and attention their custom-built home deserves, Prime 1 has become an expert in planning and scheduling projects. This does mean, however, that we often cannot begin a project for a few months (or more), but our customers are always provided with an estimated start date.
8. Do you have client references I can call?
Try to get at least one current and one past client's contact information. If your builder seems hesitant about giving out references, it may be for good reason, and you may want to move on. Also, check their Houzz and Google My Business reviews for feedback. Don't be scared off by a few less-than 5-star reviews. Instead, look at the builder's response to get the full picture of why the customer may have been a little disappointed.
Making the Final Choice on Who Builds Your Home
When hiring a builder for your custom home, don't settle for anything less than a perfect fit. Find someone who is confident, reliable, experienced, and able to communicate with you effectively. You need to be able to trust your builder to create the custom home of your dreams. If you're ready to start the design and building process, contact us today. Our experts at Prime 1 Builders will be happy to answer your questions.
---
It's no secret that your home is one of the most important investments you'll make in your lifetime. It's a place where you can retreat, relax and recover from the stress of your work and day-to-day life.
So why not build the perfect space?
Download our ebook to gain a solid understanding of the home building process.