Of every fixture and piece of furniture that you place in your bathroom, the vanity and sink are probably the most crucial. These fixtures can impact your comfort and overall satisfaction with your bathroom, so it's important to consider a variety of designs and styles.
Size, materials, color, height and shape can all have an impact on the appearance and functionality of your vanity and sink. But before you can make a choice, you first must know how those choices differ from one another. Knowing what to look for can help ensure that your selection is more satisfying.
Sink Selection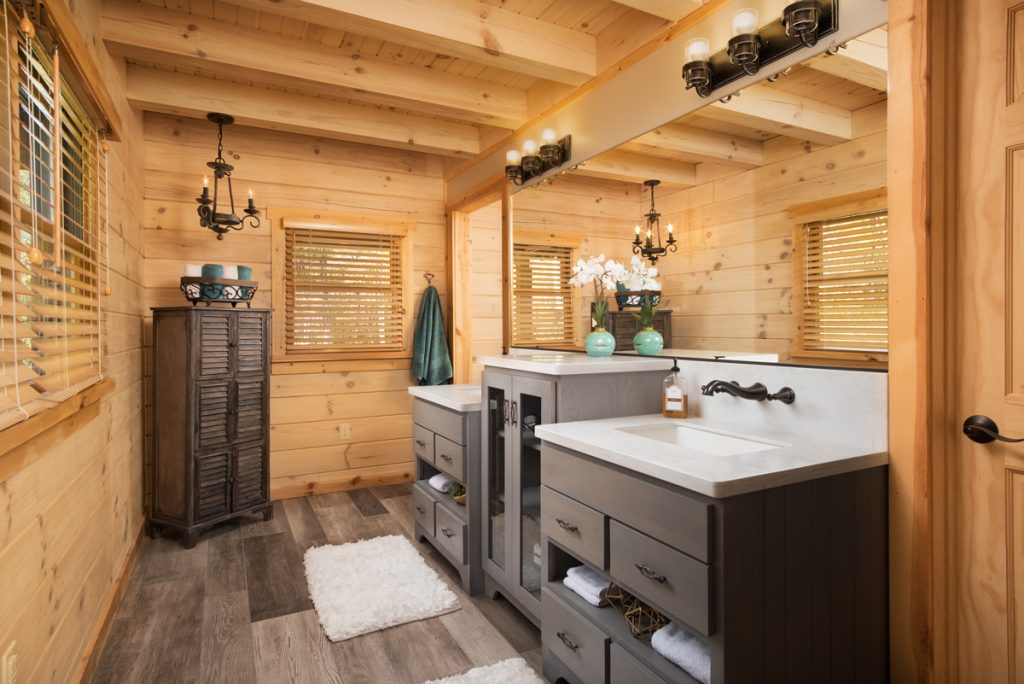 Most consumers are surprised to discover that sink styles can vary wildly. Gone are the days of few choices, colors and materials. These days, homeowners must ask themselves: two sinks or one? Drop in, undermount, integrated or vessel? Made of stone, ceramic or metal? Which color? Which shape?
Sink Type
The traditional bathroom sink is the drop-in variety, easily identified by a lip that hangs over the edge of the counter to secure the sink in place. In contemporary homes, however, new sink types have surfaced.
Vessel. Perhaps the most striking of all the sink types, vessel sinks look like bowls mounted to the top of the vanity. This is the perfect selection for homeowners who like modern fixtures.
Undermount. To picture an undermount, imagine a drop-in sink, without the obvious lip that hangs over the edge of the counter. Undermount sinks are seamless, understated and elegant.
Integrated. Integrated sinks are physically a part of the countertop, and cannot be removed or changed. Often, integrated sinks are the easiest to clean.
Double or Single
Many homeowners choose a double sink if they have space, or a single space if they do not. Perfect for a master bath, the double sink gives homeowners options.
Materials
Traditionally, sinks have been made from ceramic, but newer sinks can be made from engineered stone, metal, or a variety of natural or synthetic materials.
Vanity
The vanity is the workspace of the bathroom, containing drawers and counter space for soaps, cleaning products, makeup and other bathroom tools.
Size and Shape
A typical vanity will be around 36 inches tall. Still, homeowners are not beholden to this standard for any particular reason. Sometimes, a taller or shorter vanity can make sense. Short homeowners might be attracted to shorter fixtures, while a taller vanity may have the advantage of including more storage space.
It's common for a vanity to be rectangular in shape, but this doesn't have to be the case. In fact, many homeowners with small bathrooms opt for a vanity of a non-traditional shape. A triangular vanity or even an oval vanity can fit nicely in a corner, leaving extra space in the rest of the bathroom for movement.
Mount
Often, a vanity will take the form of a cabinet or will sit on legs that touch the floor. Cabinet-style and legged vanities are most common in large bathrooms. In recent years, wall-mounted vanities have become more common in smaller bathrooms. While these vanities actually offer reduced storage space for the user, mounted vanities take up less room visually and can contribute to a feeling of spaciousness, making a small bathroom seem less crowded.
Contact Us
Remodeling a bathroom can be a challenge. Get help from a pro! As your design-build team, we can help you choose the right fixtures, layout and features for your bathroom. Contact us to talk further!