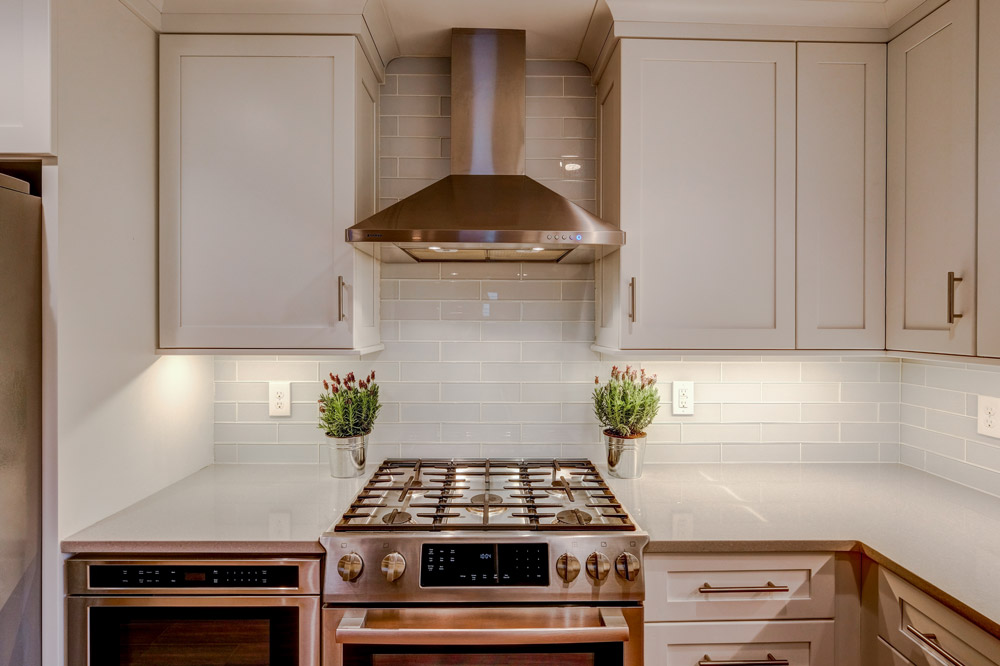 Choosing kitchen countertop options can be a fun, yet daunting, task, especially since you may end up with a few different types of countertops to create the look you want for the space. Countertops are a fundamental design element of today's kitchens, so selecting the best option to fit your needs is imperative to ending up with a kitchen you love.
Before you begin, it is important to note that no countertop material is perfect. Each has its strengths and weaknesses, so as you move through the process of choosing countertops for your kitchen, make sure your decision is based on functionality, budget and beauty. When you do so, you'll end up with a kitchen that's right for you.
Here are a few of today's best kitchen countertop options:
Natural Stone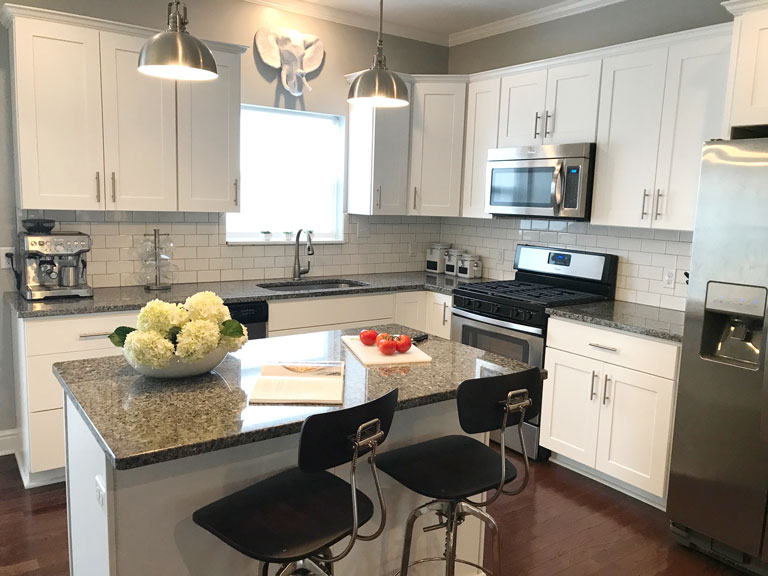 There are many forms of natural stone: granite, marble, soapstone and limestone. Stone comes in a wide range of colors, and because no piece is the same as the next, a natural stone countertop becomes a unique design element of your kitchen.
Pros: Natural stone is a one-of-a-kind countertop choice that is durable and heat resistant. Often, natural stone countertops increase the value of the home and can last for decades.
Cons: Natural stone is an expensive countertop option. It also needs periodic resealing to prevent stains and bacteria growth.
Solid Surface
This man-made product has been part of homes for over five decades, and the idea behind developing it was to create something that looked like natural stone but was nonporous and had the same density through the top, middle and bottom. A recognizable brand name is Corian.
Pros: Solid surface countertops are strong, versatile, yet easy to maintain. Homeowners who like the durability of stone, but don't like the natural variations that come with it, often choose a solid surface countertop because the color and texture is consistent throughout.
Cons: This surface is not heat resistant, and can easily dent and scratch.
Laminate
Laminate countertops, which can mimic the look of pricey stone and solid surface countertops, are often the go-to choice for countertops in kitchens, bathrooms, laundry rooms and workrooms, and have even been used as the surface for shop or crafting tables. Laminate countertops are manufactured from a combination of plastic and paper and formed into a thin layer that is laminated ­– thus the name – onto particle board. Formica is the most recognizable brand name.
Pros: Laminate is versatile, and comes in a wide range of colors and wood grains. It is a fraction of the cost of stone and is easy to keep clean (no special products or maintenance required).
Cons: Laminate surfaces are susceptible to chips and scratches, and because over time the laminate can peel away from the particle board, they have a shorter lifespan than other countertops.
Quartz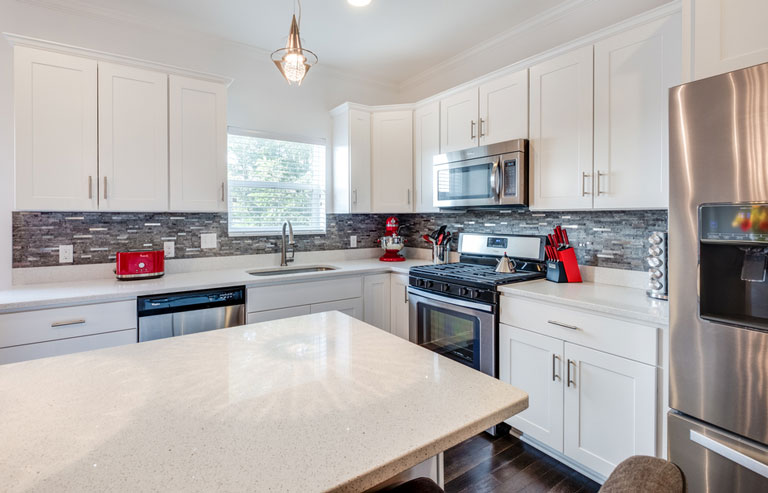 This attractive countertop option has surpassed granite as the most popular choice on the market today. Quartz is an engineered product made from approximately 94 percent ground quartz and 6 percent acrylic or epoxy binder. Recognizable brand names include DuPont's Zodiaq and Caesarstone.
Pros: Natural quartz is a hard material, which makes quartz composite a durable, nonporous surface that is resistant to stains, scratches and heat. Because quartz is manufactured, the color options are abundant, including multi-hued options with flecks, swirls and random patterning – giving it a similar look to natural stone.
Cons: When compared to natural stone, quartz isn't quite as durable, especially when it comes to heat, and long-term exposure to sunlight can fade the color.
Concrete
Concrete is another kitchen countertop option that is growing in popularity. While shades of gray and earth tones are the typical choices, concrete can be mixed into a wide range of colors. Concrete countertops can also be ground, polished or stained and embedded with items such as stones, glass or seashells to create a one-of-a-kind design.
Pros: Concrete countertops are a durable option and tend to be less expensive than natural stone.
Cons: To preserve their protective qualities, concrete countertops need to be resealed regularly, and their lifespan tends to be less than stone.
Butcher Block
Butcher block countertops are being integrated as a part of overall countertop design – the most common use is for kitchen island countertops. Wood comes in a nice variety of colors, species and finishes, and brings a natural, warm feeling into the space. The most popular wood choices are maple, bamboo, black walnut and cherry.
Pros: Wood is less expensive than stone, is warmer to the touch, and is quieter and more "forgiving" if something falls onto its surface.
Cons: This is a high-maintenance surface, as it needs oiled a few times a year to preserve the color and finish; it does also need to be kept dry.
Stainless Steel
Stainless steel countertops have long been used in professional kitchens because the metal is nonporous – which means it is resistant to stains and bacteria. They give the kitchen a sleek, industrial look, and the most popular finish choices are gleaming and brushed.
Pros: Unlike stone, metal is nonporous, which means it is stain-resistant and antibacterial. It also doesn't require sealing and can be cleaned easily with just soap and water.
Cons: It is one of the most expensive choices – both to purchase and to have installed – and like stainless steel appliances, it's tough to keep fingerprints, watermarks and scratches from showing.
As you can see, there are many kitchen countertop options available in today's new home construction and remodeling market, and each one comes with pros and cons. What is most important is that you work with your design professional to select the right countertop to fit your lifestyle as well as your budget.
View some of the kitchens we've built >>
Contact us if you'd like to talk more about a kitchen remodel or new home construction project.