As people are living longer, the demand for aging in place design in new construction is on the rise. According to the U.S. Census Bureau, 15% of Pittsburgh's residents were 65 years of age or older, and 19.3% of all Allegheny County residents (per July 1, 2021 estimates).
More and more people want to be able to live independently in their homes as they age, instead of paying to live in a nursing home or assisted living facility. If you are building a new home, it is important to think about features in your house that will make it easy to live and move around comfortably as you age. In this blog post, we will discuss some of the most important aspects of aging in place design and how you can incorporate these features into your new home build.
What is Aging in Place Design, and Why Should You Consider It?
Aging in place is based on the concept of Universal Design, which focuses on creating functional spaces for people of all ability levels. Specifically, aging in place is the idea that your home will remain accessible and safe for you and your family as you age and need more accommodations.
When building a new home or remodeling the one you've got, it's smart to take a holistic approach to your needs. A certified aging in place specialist (CAPS), like us (Dan Meade is CAPS certified), can help you thoughtfully design your space to grow with you so you can remain at home longer or take care of aging loved ones.
How Can You Make Your Home More Accessible?
By thinking ahead, you can build flexibility into your existing home, so it can be transformed to accommodate your changing needs as you age. This can be done with style, and it doesn't have to be all or nothing. Here are a few things to consider when building or renovating your home:
Laundry room. Add rough plumbing in the downstairs walls to add a full bath and laundry hook-ups later. This can make first-floor living a possibility.

Wider doorways and hallways. They should be no less than 32 inches but a minimum of 36 inches is ideal. Hallways should also be a minimum of 36 inches (wider is preferred).

Open floorplan. They're much more accommodating for wheelchairs and walkers.

Plenty of windows for natural light. As we age, our vision becomes impaired.

Stacking closets (in design). Closets that are designed on top of each other can be converted to an elevator shaft later, if needed.
See this Aging in Place Remodeling Checklist for a more comprehensive list of ideas that can also be applied to building a home.
What Are Some Common Features of Aging in Place Design?
As you design your home, think ahead and create a space that will be functional now and in the future. 
The Entryway
Create a space that's open and accessible whether you're on foot, using a walker, or sitting in a wheelchair. This means creating an entry that's flush with the floor (no steps) and an entrance space that's greater than 36 inches wide. Additionally, you can add non-slip rugs and hooks for outerwear and purses at varying heights.
The Kitchen
Choose the countertops and cabinets you love, but think about functionality down the road. For example, create workspaces at varying heights to accommodate a wheelchair and ensure the room has enough space to turn around. Consider a microwave drawer, instead of an overhead microwave, which is much easier (and safer) to lift hot items from. It's also important to select appliances that are ADA compliant and ones with easy-to-read controls.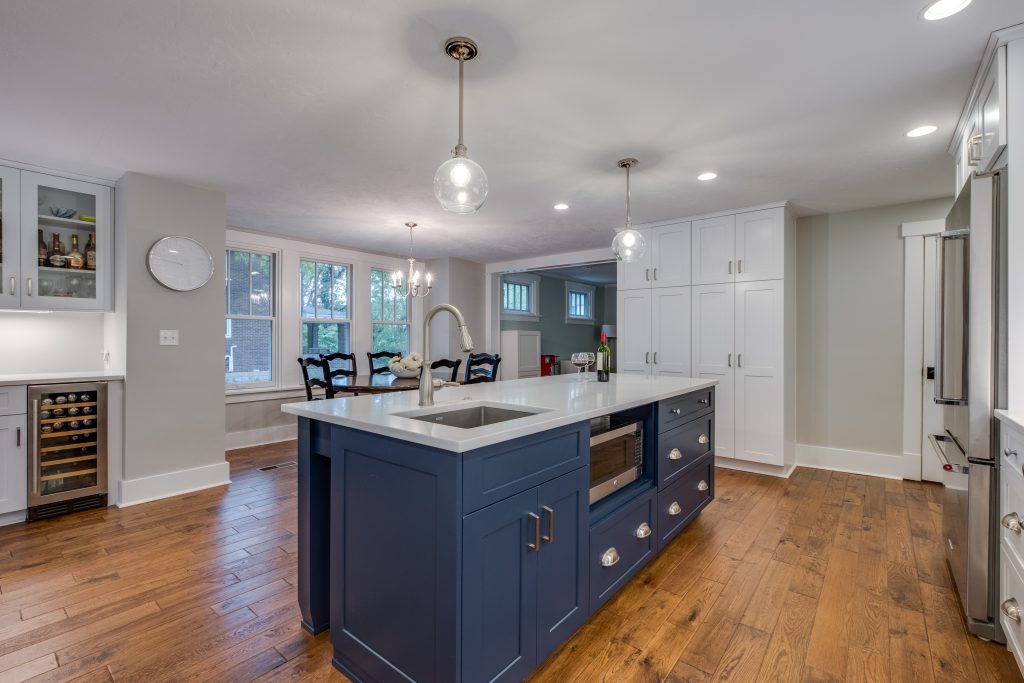 The Bathroom 
Bathrooms are one of the best places to consider mobility because there are so many lovely materials and products on the market with accessibility in mind. Grab bars, a shower bench or fold-down seat, an adjustable showerhead and slip-resistant floor tiles are all great additions to a bathroom that can help with safety as you age. You may want also to consider a sink that's 34 inches high and a toilet seat that's 17 to 19 inches tall, so you won't need to bend too much to use them.
The Main Floor
When designing your home, think about how your first floor can be transformed. With careful planning, a dining room can be converted into a bedroom and a small bathroom can easily be transformed into the main bath. Consider adding washer and dryer hookups on the main floor as well, so you won't have to use the stairs as much. 
How Will Designing for Aging in Place Impact the Value of Your Home?
Thinking ahead will certainly provide a higher return on investment (ROI) when it's time to sell your home. Many people are thinking about accessibility and their future needs when buying a home (or needs of a loved one), and aging in place and universal design is an excellent selling point. This will save buyers money in the long run, making it easy to transform the home as they age. 
Tips For Finding the Right Contractor to Help With Your Aging in Place Design
It's important to find the right home builder in Pittsburgh who understands your vision to age in place. Find a builder who's got experience with aging in place design and can provide ideas on how to incorporate this concept into your renovation or new home construction project.
If you're ready to start planning, contact us. Our team at Prime 1 Builders are experts at designing homes that will grow with you so you can live comfortably at home.