Building a new home comes with lots of selections, and most of them will impact the final cost of your custom home project. However, when choosing which home upgrades add value, it's important to think about the return on investment—a value that adds to the enjoyment of your home—not simply dollars and cents.
Let's look at a few home upgrades that you should take care of during the building process, and a few that you can wait to tackle later.
As you go through the design-build process with your builder, think about the square footage you need now and the square footage you may potentially need later.
Upgrading your square footage now—during the building phase—does not necessarily mean you need to "finish" the space entirely now. Some examples include:
Add a deeper basement (for more ceiling height) to finish it in a few years.
Add an unfinished bonus room that can be used for storage today and has the potential to be turned into a teenager hang-out down the road.
Design a bigger garage to accommodate your needs. Think about when your garage door goes down. Will it fit your large truck or SUV and all your storage items?
This Washington County homeowner asked us to build a secret kids room for him to finish later, and we happily accommodated his unique request.  And when designing this one-story house in Pittsburgh's Robinson Township, we considered how we could eventually add an addition to the rear of the home—if and when the time comes.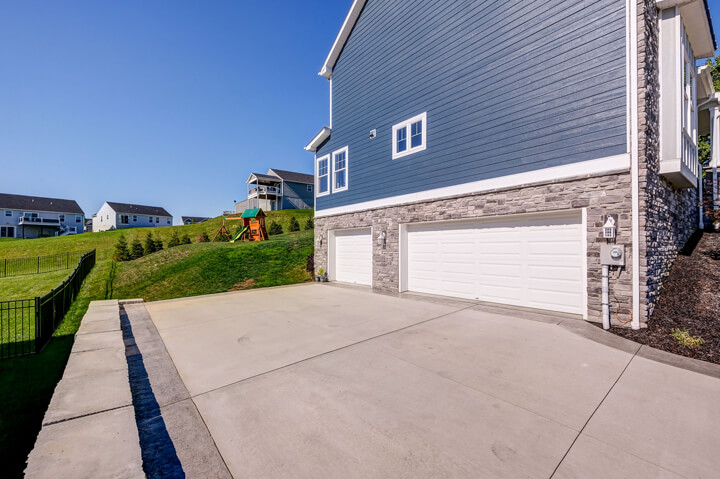 Wait Until Later: Minor Aesthetics
Although you want your home to look exactly the way you want, some aesthetic home upgrades do not need to be added. One place where homeowners tend to overspend when building a house is fixtures—everything from light fixtures, drawer pulls and knobs to plumbing fixtures. These items can be easily upgraded later on.
Additionally, hardwood floors are beautiful, but laminate is just as appealing, and it'll cost you far less (and it's much easier to maintain.)
Upgrade Now: Tech Features, Energy Efficient Mechanical Systems, and Wall Outlets
If you want a "smart home" take care of this upgrade during the building process. It may require extra wiring before the walls are closed. Waiting until later can cost more and be a messy renovation.
While building, it's also an excellent time to install energy-efficient mechanical systems and any plumbing or electrical you'll want for your unfinished spaces (basements and bonus rooms). Again, your builder will walk you through this process.
Make sure you add plenty of wall outlets before the drywall goes up. Be thoughtful about placement, too. Think about each room's interior layout: where the furniture will go and where to plug in lighting and other electronic devices. You really can't ever have too many outlets in a home.
Wait Until Later: High-End Appliances
Appliances can be pricey. While you may want the latest-and-greatest kitchen appliances, consider how important it is to have high-end appliances right now. If they can wait, select a nice stainless steel package for now. Not only do they look nice, but they withstand the test of time. You can always upgrade your appliances later.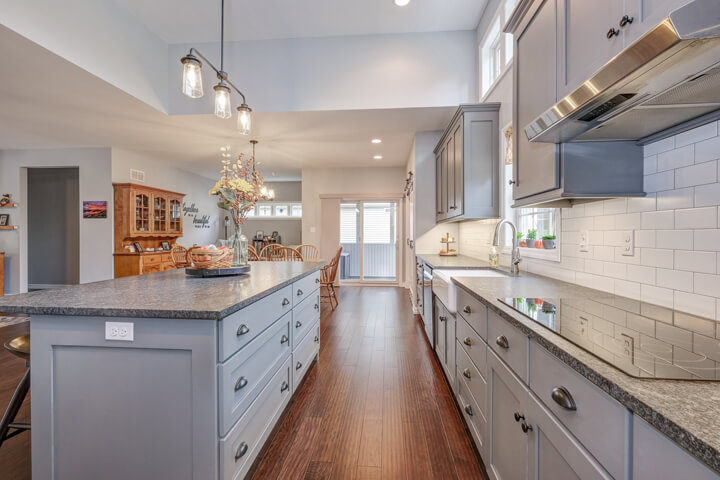 Upgrade Now: Cabinets, Countertops, and Kitchen Storage
If there is one place in the home where we find our clients becoming extra thoughtful with design, it's the kitchen. Naturally, you'll want to space to look great but also function. Here are some things to consider:
Extra-tall kitchen cabinets for aesthetics, and the height will give you one more shelf for storage.
Choosing the right cabinets can greatly improve kitchen storage. From cabinets that organize small kitchen appliances to sliding spice racks and lazy Susans, the days of having to crawl on hands and knees to find things are gone.
Varying the counter height for universal design considerations for family members (or your future needs).
A microwave drawer
Deep refrigerator cabinet to make the fridge look more "built-in."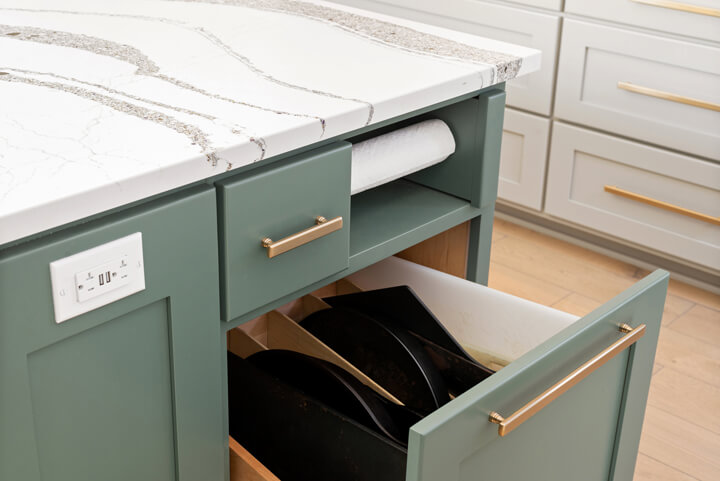 Wait Until Later: Lavish Landscaping and Outdoor Living Spaces
It's fun to dream about sunny afternoons on your deck or a landscaped lawn with rose bushes and shrubs, but designing your perfect outdoor living space can wait. Your builder will probably provide a basic landscaping package (lawn seeded with a few shrubs on the front exterior of the home. Once you are moved in, you can work with those basic elements to add to the home's curb appeal. For example, add a flower basket near the front door or expand a few of the flower beds.
For the backyard, we recommend you move into your home first, and get a feel for where the sun hits in the afternoons and evenings, before committing to an outdoor living space upgrade.
To recap, some of our top home upgrades you should consider adding now include:
Square footage
Tech features
Energy efficient systems
Wall outlets
Kitchen cabinetry
Countertops
Kitchen storage
Building a new home doesn't need to be financially stressful. Working with your builder to create a realistic budget and then sticking to it will create the home of your dreams without breaking the bank. It will be a nice return on investment – both financially and in enjoyment.
Contact us at Prime 1 Builders to get started on the design process for your new home.