We are often looking for new inspiration: new ways to organize, new ways to become healthy and new ideas for the home.
Top renovations continue to be kitchens, living rooms and the master bathroom, and it is here where homeowners are seeking to personalize this space to match their needs and style. We've organized a few of the top master bathroom design trends to watch in 2018, and while some may not be entirely new, all have a varied twist or application to them.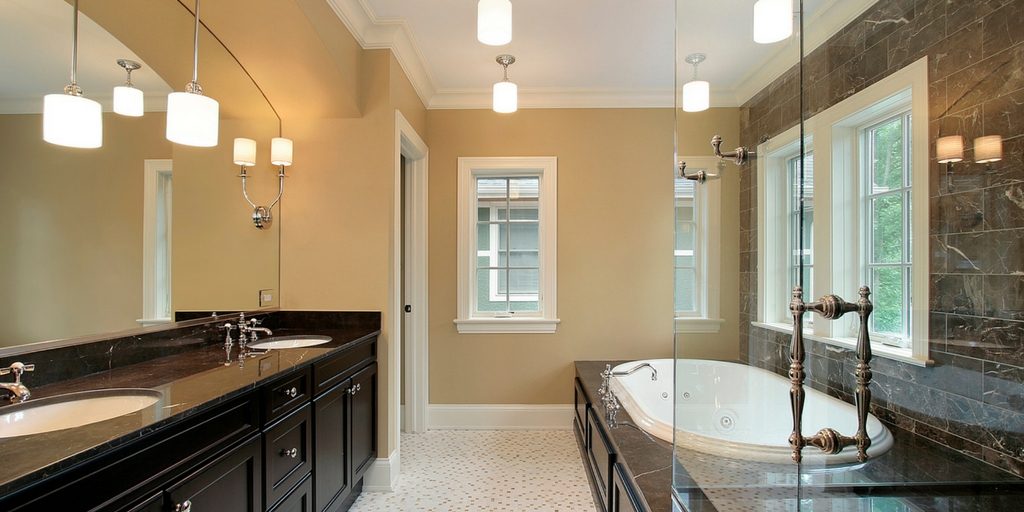 Unique Tile Design & Options
This year, you can expect more elaborate tile designs to appear throughout the bathroom – on the floor, in showers, as accent bands and vanity backsplashes, to name a few. While decorative tile isn't a new trend, the way it continues to be creatively used in bathrooms is. From fish scale tiles to basket weave, there are many lovely options to consider.
Using these smaller, decorative tiles sparingly is a trend that can help you stay within budget, too. Because they are often more expensive than their larger-profile counterparts, integrating them as an accent is a compromise that allows you to get the tiles you love while staying within budget.
There is also a growing trend toward installing glass mosaic tiles on the floor. These tiny bursts of color can make a dramatic statement to the bathroom and offer the luxury that many homeowners crave for this space.
While not new, large profile tiles are also a trend that is not going away anytime soon. Today's homeowners are opting for 12×12 or even 12×18 floor tiles. Because of the reduced grout lines, the larger tiles create a more fluid look for the room, and there are many materials from which to choose: ceramic, porcelain, travertine, slate, limestone, marble, wood-like tiles and more.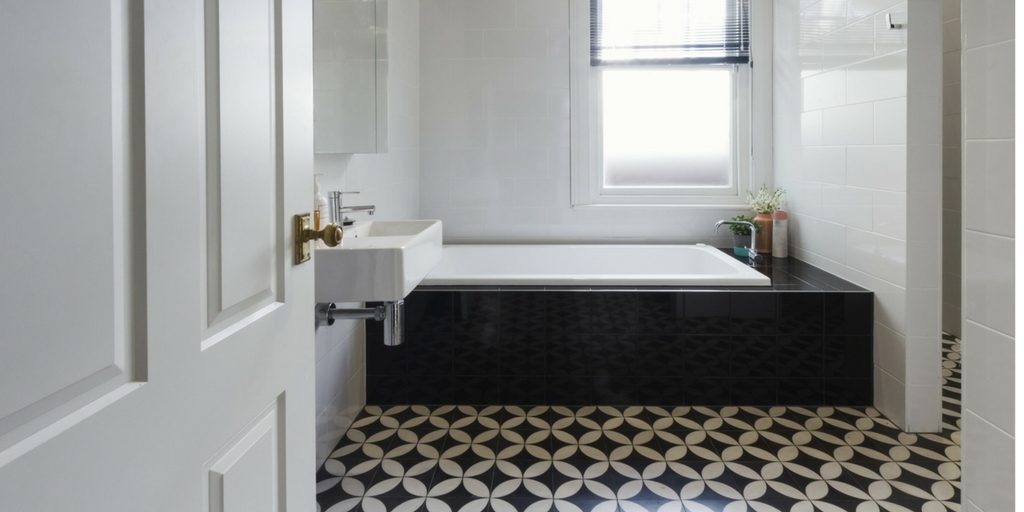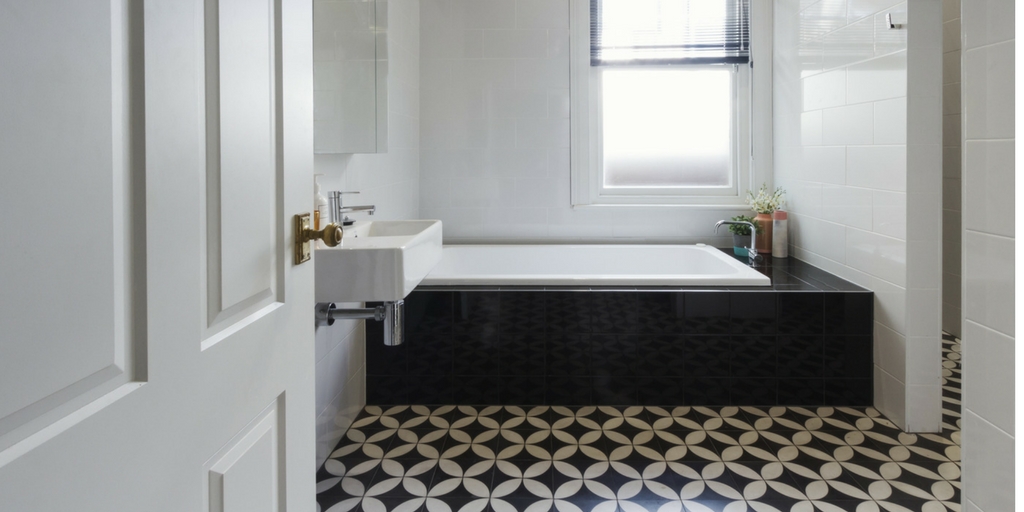 Wallpaper Patterns
Wallpaper is making a big splash in the bathroom (and quite honestly, other places in the home, too). Wallpaper in geometric patterns, big floral prints and metallic finishes all are being used in today's master bathroom – often as an accent wall to create an eye-catching focal point.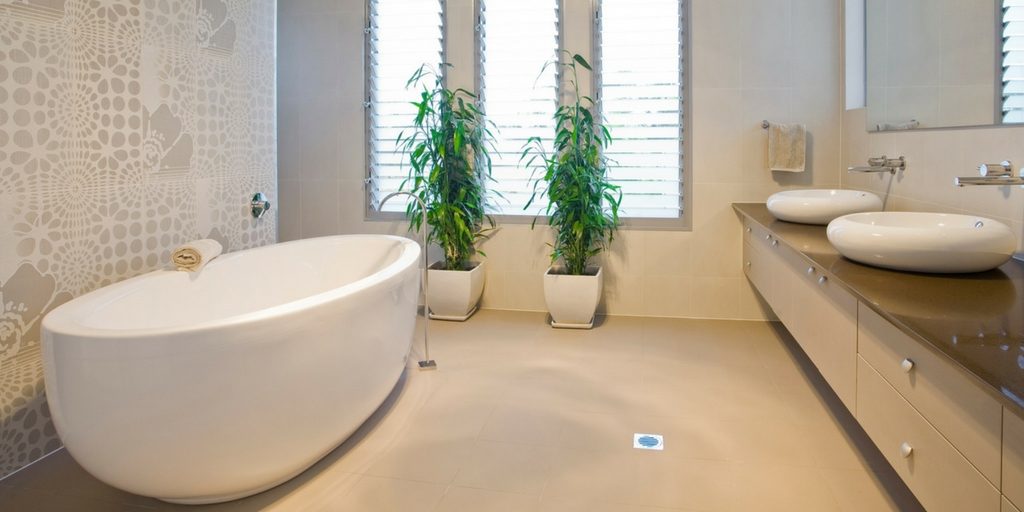 Statement Pieces
As the trend in bathroom design continues to be clean, flowing lines, homeowners are finding ways to make their space uniquely theirs – with statement fixtures. This may include elegant chandelier lighting, decorative faucets, vessel sinks or even side tables.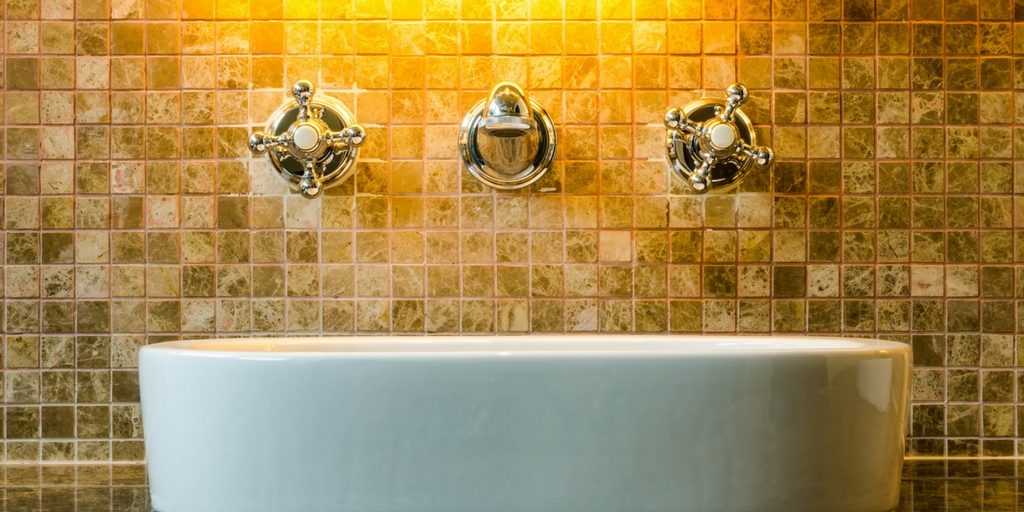 Natural Elements
Many bathroom designs are integrating elements that are typically found in the outdoors, such as natural, textured stone – and even brick – to bring a rustic feel to the space. If a softer, zen-like environment is what you wish to create, bamboo and light-colored wood can be used.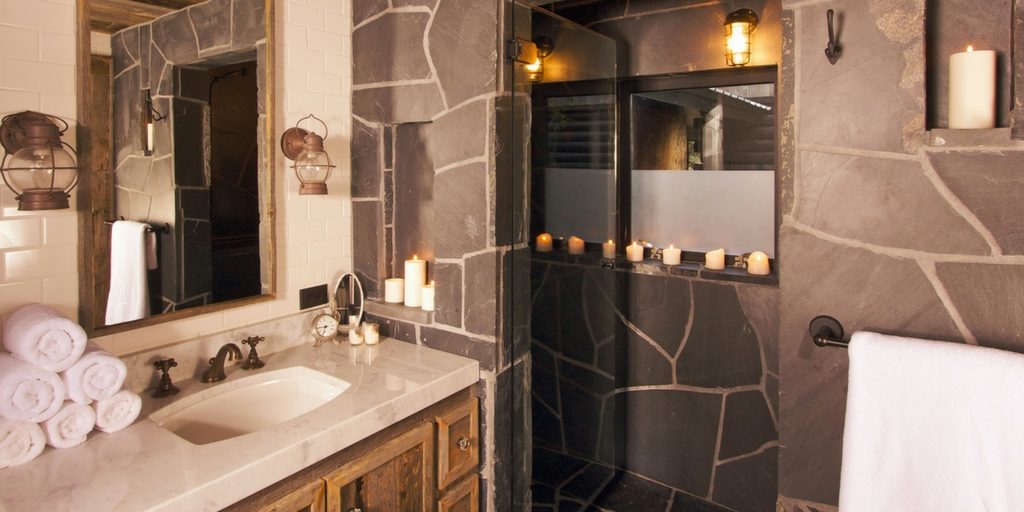 New Luxurious Options
Luxury is defined by each individual, and creating the perfect space to escape to is still a big motivator for homeowners seeking to renovate their master bathroom. Expect to see even more ways luxury can be integrated into this space such as soaking tubs, massaging shower heads and aromatherapy. Customized shower details such as benches, built-in caddies and detailed tile work will also continue to be popular, and technology within this environment – from LED lighting to built-in speakers – will also become a rising trend.
When visualizing your ideal master bathroom, what's your "must have" feature? Is it integrating a unique tile design, a statement piece or having the perfect walk-in shower to wash the day away? We want to know (simply hit reply and tell us).
If you have a renovation project on the horizon, contact us. We'd welcome the opportunity to talk with you further about your remodeling plans.
*Images used in this article are stock, so feel free to look through our bath portfolio.