Incorporating luxury features into your custom-built home can transform your residence into a personal oasis. These features are not only about aesthetics but also about enhancing your comfort, convenience, and lifestyle. From gourmet kitchens to spa-like bathrooms, the possibilities are endless.
Luxury Home Features in Pittsburgh
Let's explore some of Pittsburgh's most desirable luxury home features that can elevate your living experience to new heights.
Gourmet kitchens
Gourmet kitchens are a cornerstone of luxury living, turning daily necessities into a delightful experience. These kitchens typically have high-end appliances such as commercial-grade ranges, double ovens, and custom refrigerators. Expansive counter space made from premium materials, like quartz, enhances both functionality and aesthetic appeal. Additionally, gourmet kitchens often feature walk-in pantries for ample storage and islands for extra prep space, proving that practicality and luxury can go hand in hand.
At sink water filtration systems
Pittsburgh has a lot of minerals in its water, which can lead to a not-so-appealing taste. In-sink water filtration systems are a luxury feature that combines refinement with practicality. These systems ensure constant access to clean water for cooking and drinking. High-end filters can even enhance the taste, removing impurities and certain chemicals that can affect flavor. It's a modern convenience that adds more sophistication to your gourmet kitchen.
Beverage stations
Beverage stations have become a notable feature in luxury homes. You can customize these stations to suit your preferences, whether you're an avid coffee lover, a wine connoisseur, or a tea enthusiast. High-end coffee machines, wine refrigerators, and tea brewing stations can all be incorporated into this area. For an added luxurious experience, incorporate a beverage station into your primary bedroom suite to brew your first cup of coffee or tea when you wake up, then snuggle back into your bed on those cold winter days.
Energy-efficient fireplaces
Energy-efficient fireplaces offer both practical and aesthetic benefits, adding a cozy ambiance to your home while keeping your energy costs low. These fireplaces provide the charm and warmth of traditional fireplaces but with a modern touch, using less energy and emitting fewer pollutants. There is a wide range of styles available for you to choose from, allowing you to complement the architectural style of your home perfectly.
Floor-to-ceiling windows
Floor-to-ceiling windows are a stunning feature that can make a significant impact in any luxury custom-built home. These windows allow abundant natural light, creating a bright and airy atmosphere. Simultaneously, they offer unrivaled panoramic views of your landscape, whether a lush backyard garden or the city's skyline. Beyond the aesthetic advantage, floor-to-ceiling windows also contribute to energy efficiency by leveraging natural light, thus reducing the need for artificial lighting during the day.
Electric car charging stations
With the shift towards more sustainable living, having an electric car charging station built into your home/garage has become a sought-after feature. It provides the convenience of charging your electric vehicle from the comfort of your own home, eliminating the need to rely on public charging stations. It is a practical and forward-thinking addition to your custom-built home.
Gaming rooms or teen hangout rooms
A dedicated gaming room or teen hangout room has become a popular feature in homes. These spaces can be tailored to the hobbies and interests of the occupants, providing a dedicated area for gaming, relaxing, or socializing with friends. They may include high-end gaming consoles, comfortable seating, soundproofing for immersive sound experiences, and even refreshment areas (i.e., beverage stations). A well-designed gaming room or teen hangout space can add a fun and youthful energy to your home, making it a favorite spot for both the young and the young at heart.
Big walk-in closets
Big walk-in closets are not just a functional space for storing clothes and accessories; they are a symbol of luxury and organized living. With custom-built shelving and designated areas for different items, you can save time and reduce clutter by knowing exactly where everything is. But beyond practicality, walk-in closets also offer a personal boutique-like experience. You can incorporate mirrors, slender floor-to-ceiling windows, comfortable seating, and even a vanity area for a touch of glamour. Having a walk-in closet in your master suite can add a sense of opulence and sophistication to your living experience.
Home gyms
A home gym is a fantastic feature for fitness enthusiasts looking to maintain a healthy lifestyle without leaving the comfort of their homes. Equipped with high-end fitness equipment, these rooms can be customized to cater to your specific workout routines, whether that's yoga, weight training, cardio, or a mixture of all. A well-designed home gym can also feature floor-to-ceiling mirrors, wall-mounted TVs, sound systems for motivational music, and rubber flooring for safety and comfort.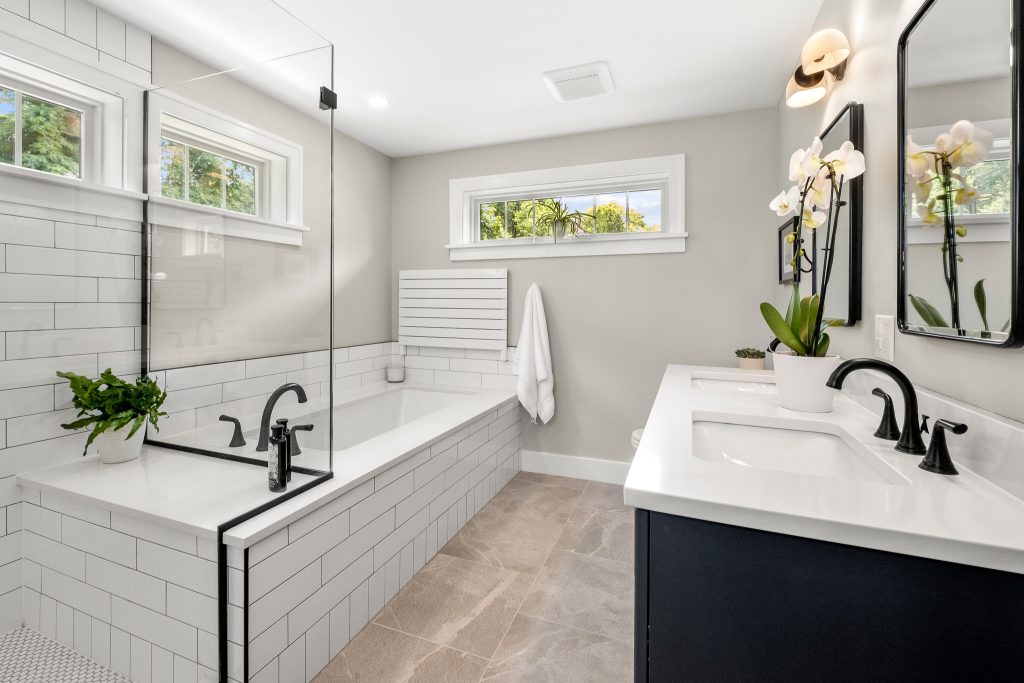 Spa-like bathrooms
Spa-like bathrooms are fast becoming a must-have feature in luxury homes, providing a sanctuary for relaxation and rejuvenation right within your home's confines. Complete with large freestanding soaking tubs, multi-head showers, heated floors, and even saunas or steam showers, these bathrooms embody the essence of a luxury spa retreat. High-end materials such as marble, granite, or teak can be used to enhance the aesthetic appeal. Other upscale elements may include vanity stations, towel warmers, and built-in sound systems for a fully immersive experience. This kind of bathroom design promotes wellness and self-care, rounding out the suite of features that make up a luxurious and comfortable home.
Steam showers
Steam showers are a decadent feature that turns your bathroom into a personal spa. These showers produce a soothing steam that can help to alleviate stress, relax muscles, and promote overall well-being. In addition, steam showers may come equipped with features such as aromatherapy dispensers, chromotherapy lighting, and built-in sound systems for a truly immersive experience. They are an investment in luxury and wellness that can transform your daily bathing routine into a therapeutic ritual.
Outdoor kitchens
Outdoor kitchens are a remarkable feature in luxury homes that elevate your outdoor entertaining experience. These spaces can be fully equipped with high-end grilling stations, refrigeration, and even pizza ovens, providing a seamless experience for outdoor dining and entertaining. Outdoor kitchens also offer the benefit of keeping cooking smells out of the home and providing a unique venue for enjoying meals. With comfortable seating areas and perhaps a fire pit for cooler nights, this feature transforms your backyard into a versatile space for both relaxation and entertainment.
Luxury custom-built homes offer an unparalleled living experience, combining elegance, comfort, and cutting-edge technology. As trends evolve, these homes continue to push boundaries, offering modern solutions that are not only sustainable and practical but also embody a sense of luxury and sophistication. If you want to learn more about integrating luxury home features into a custom-built home, contact us.