Smart technology is trending this year, and it's not going anywhere anytime soon. Let's look at some impressive smart home options that can make your life easier (and save on energy spending!)
Kitchen Appliances with Connected Technology
Kitchen technology has come a long way, and many homeowners are opting for smart appliances. Today, you can adjust your oven's cook time at the swipe of a smartphone and connected apps allow you to control your dishwasher, refrigerator and coffee maker — even when you're not at home. Smart refrigerators are equipped with technology that can tell you when an item inside has expired or needs to be replaced. These features allow homeowners to cook, grocery shop and clean more efficiently without spending so much valuable time in the kitchen.
Smart Showers
Smart showers are having their moment, and homeowners are raving about the luxury and convenience that they bring to their homes. Today's showers offer connectivity and customization options that level up your shower experience. Gone are the days of adjusting your water temperature until it's "just right." In 2023, you can control your shower temperature with your smartphone by adjusting the temperature, flow, and duration, so you don't have to wait for the water to warm up. Many smart showers also have Wi-Fi and Bluetooth technology to control your shower with voice activation.
Smart Toilets
This year, smart toilets have replaced basic toilet options, and they come in various color options and stylish designs. Built-in bidets are growing in popularity in the U.S., with features like temperature controls and a warm air dryer. Best of all, smart toilets have a hands-free option, making them more sanitary for everyone in the home.
WiFi Irrigation Controls & Smart Water Tech
Today's homeowners are concerned about the environment, and we've seen an encouraging increase in eco-friendly smart home options. Wi-Fi irrigation controls make it easy to control your water usage outdoors with your smartphone. According to Mason Hall, head of connected products and fortune brands innovations at Moen, "Much of the home's water usage is due to outdoor irrigation." Options like scheduling, skipping due to weather and targeting specific zones in your yard while automating the spigot rotation (so you get optimal watering) without wasting a drop.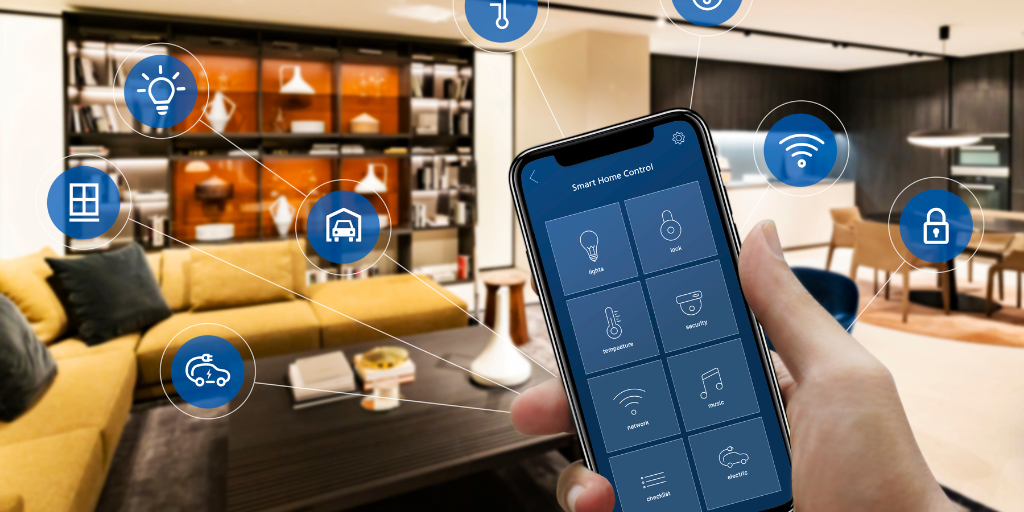 Smart Locks
Gone are the days of "hide a key" rocks and searching for a spare key under the doormat. Today's smart locks offer convenience and safety for everyone in your home. Homeowners can share their lock code with house sitters and neighbors who need to stop by, and kids can get inside without having to worry about keeping track of a key. Most smart locks have customizable codes that can be changed, so you have peace of mind. Parents especially love having smart locks for their teens who come home from school to an empty house. That way, they can rest assured that the kids can get inside, and parents can opt for notifications that let them know when the door has been unlocked.
Smart Thermostat
Heating and cooling your home can cost a lot, and it's silly to keep your home comfortable when nobody's even there. Today's smart thermostats offer the option of remotely controlling the temperature inside your home from your smartphone or computer. That way, you can turn on the heat remotely so your home is toasty and warm when you arrive. Because smart thermostats help with energy efficiency, many states offer efficiency rebates to homeowners who have them installed.
Smart Lighting
Smart lighting makes life easier — it's as simple as that. In 2023, you no longer have to get out of bed to turn off the light. Instead, you can install smart bulbs that can be connected to virtual home assistant technology. Homeowners can use their voice or smartphone to dim, brighten, or turn off their lights without having to walk across the room. Smart lighting can also be scheduled, so lights turn on and off at intervals that make the most sense for your home. Homeowners especially like the energy savings and convenience that smart lighting offers.
Many smart home options are available today, and many offer additional benefits like energy savings and increased home value. If you're thinking about adding smart features to your home, Prime1 Builders can help. We closely follow new trends and stay up-to-date on the latest smart options for homes in the Pittsburgh area. Contact us today to get started.