There are so many great reasons to build a custom home. For starters, as a homeowner, you get to be in control of every step of the process — from designing the layout to choosing countertops and light fixtures. That way, your new custom home looks and functions like you've always envisioned. Let's look at nine of the best reasons to build a custom Pittsburgh home with help from our team at Prime1 Builders.
Reasons to Build a Custom Home in Pittsburgh
Are you tired of touring homes that never quite seem to have everything on your wish list? From floor plan layout to cabinet finishes and just about every aspect in between, if you've been struggling to find a move-in ready home that meets all your needs, consider building custom. Building from scratch offers plenty of benefits for those looking for their ideal home. In this blog post, we'll look at nine reasons why it makes sense to build a custom house from the ground up.
1. The Features You Want Today (and Tomorrow)
Often, families outgrow their current homes as new family members are added and needs change over time. This strategy, known as "future-proof," considers a growing family's needs right now — and in the future — including new additions, aging parents, and aging-in-place. That way, your home can continue to meet your family's needs over time.
2. Personalized Design
When you choose to build a custom home, you get a say in every detail, every step of the way. That way, when your home is ready, the finished product perfectly reflects your style. From big features like a central vacuum system and custom kitchen appliances to tiny details like doorknobs and drawer pulls, you can hand-select exactly what you want.
3. Up-to-Date Safety Standards
Building codes change every three years and can put older houses at risk of being outdated and not up to code. When you build a custom home, you can ensure that the proper safety measures are included so your family is safe and secure.
4. Energy Savings
Modern appliances are more efficient and updating them in an older home can be very expensive. When you build a custom home, you can start with the highest-rated EnergyStar appliances that will save you money on your monthly energy bill.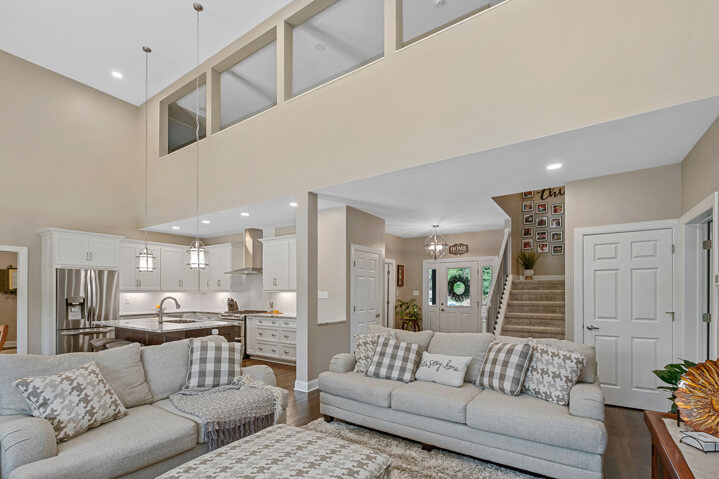 5. A Floor Plan That Fits Your Lifestyle
Choose a floor plan that fits your lifestyle, so you can enjoy living in it. Design a custom living space that complements your social life by planning your dream kitchen with plenty of counter space, an outdoor patio with a fire pit, or a living room big enough to entertain a crowd.
6. The Latest Technology
Technology is constantly improving, and new integrated technology options are becoming available every day. With a custom build, you can design a home with the best technology available, including smart appliances and multi-room audio systems.
7. Build Where You Want
The greater Pittsburgh area has so much to offer! When you build your own custom home, you have more freedom to choose the location where you'll live. That way, you can pick a spot near your family, in your favorite school district, your ideal neighborhood, or provides a quick commute to work. As they say, real estate is all about location!
8. Lower Maintenance Costs
A custom build means everything inside the home is brand new. That means things are less likely to break, and if they do, it's probably covered by a manufacturer's warranty. On the other hand, an existing home can have unforeseen maintenance issues that can drain your bank account quickly. Big-ticket items like the roof, HVAC system, and appliances are all brand new.
9. The Opportunity to Choose Your Builder
When you choose to build your own home, you get to pick the builder to invest in. That means you can select a company whose personality and vision match yours and has the best materials and quality standards in the industry.
If you're considering building a custom home, contact Prime1 Builders today. Our team would be happy to answer your questions and start the design process, so you can have a home that meets all your reasons to build a custom home today and for years to come.