Designing your kitchen can be one of the most challenging parts of building a new home. Your kitchen is likely one of the busiest rooms in your house, so it's important to design a functional and fun space. Let's look at some things to consider when creating a functional kitchen design to meet your needs.
The Importance of Function and Flow in Your Kitchen
Your kitchen is the central hub of the house, and you'll likely spend a lot of time cooking and conversing inside its walls. Aside from food prep, it's a place where family and friends gather to eat, hang out and do homework. It's important to consider the main functions your kitchen will serve and create a custom space that allows for a seamless flow of foot traffic.
What Makes a Kitchen Functional?
A functional kitchen is equipped to handle day-to-day activities like cooking and serving meals, but it can also serve as a place for friends and family to gather. You can encourage this by designing a room with ample space for people to move around when you want to entertain and plenty of storage for all your food and food prep supplies.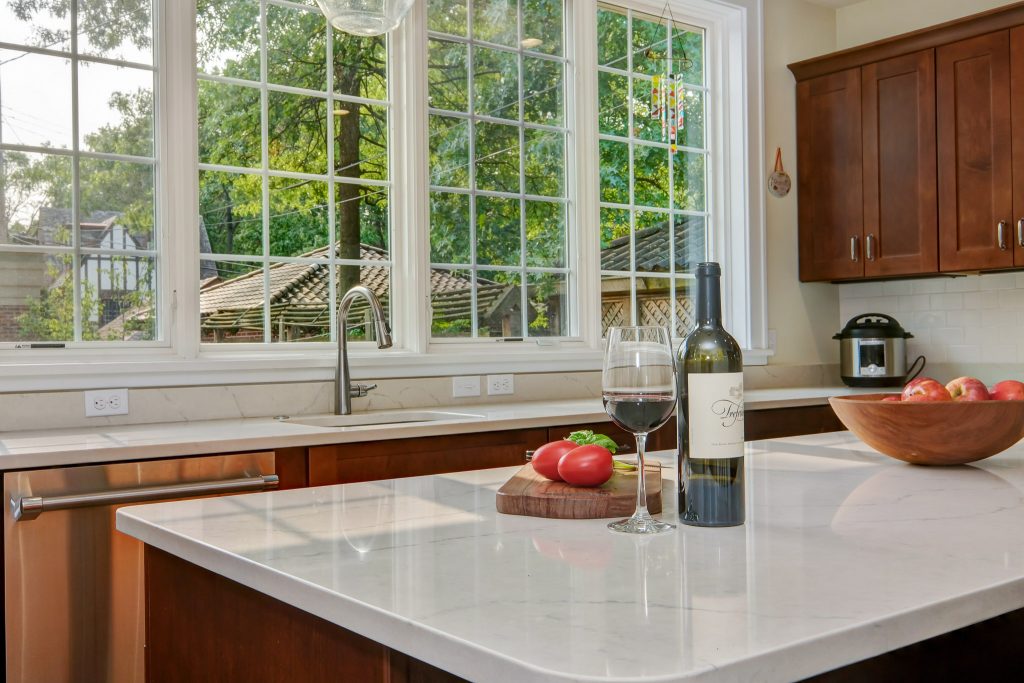 Tips For Creating a Functional Kitchen
In order to create the perfect kitchen for your needs, you'll need to consider several factors. Take your time and make sure your layout is conducive to both function and fun, and design a space that you genuinely love — since you'll probably spend a lot of time in your kitchen space.
The Kitchen Triangle
The kitchen triangle, or "golden triangle," is a kitchen layout design that involves the placement of the sink, cooktop and refrigerator. When you place these three major kitchen components near one another, cooking, cleaning, and food prep is much easier to complete. In addition, this design minimizes movement throughout the kitchen so you can take work more efficiently.
Consider whether this design works for you, and how you could go about adding a working triangle to your kitchen space.
Kitchen Work Zones
Although the kitchen triangle is a popular design choice, many people choose not to use it. Open concepts make it more difficult to include a kitchen triangle, so designers use a work zone layout instead. This concept involves creating zones where you perform specific tasks. For example, a prep zone will have drawers containing everything you need to prep food, with plenty of counter space nearby. On the other hand, a cleaning zone will be near the sink, with everything you need to wash, dry, and put away dishes. This setup is very flexible, and you can creatively design a work zone that meets your individual needs and interests.
The Kitchen Island & Counter Space
Islands are a popular component of most kitchens and are a great place for people to gather. Ensure your kitchen design has plenty of counter space for storage and prep, and ensure that your cooking surface and refrigerator countertops are nearby. This makes cooking much easier, and you'll have plenty of counter space when you need to load groceries into the fridge.
Entertainment and Kitchen Seating
Select seating that fits your space and make sure there's room around each chair for guests to move freely. If you enjoy sitting around the island, include ample room for bar stools or chairs to fit, and make sure there's space to prep and cook while people sit nearby.
Walkability Around the Kitchen
Since the kitchen sees a lot of traffic, creating an easy flow throughout the space is important. Make sure your kitchen triangle isn't in the middle of a major walkway, and ensure that there's plenty of space for people to walk through the room. Thoughtfully place countertops near enough that you can transport heavy pots and hot dishes safely from the stove.
Kitchen Storage
Include plenty of cabinets and drawers throughout the kitchen for storing dishes, utensils and tools for food prep. Don't forget to add a pantry or other storage space for canned goods and baking supplies, and create a discreet spot for the garbage to go. As an added luxury, consider purchasing soft-close cabinets and drawers.
Kitchen Lighting
Your kitchen needs a lot of light, and there are plenty of options from which to choose. Natural light is always a preferred choice, but artificial light can enhance the space. Recessed lights are perfect for the ceiling since they don't take up a lot of space. Pendant lights are perfect for hanging above the kitchen island, and under-cabinet lights, or task lighting, are a great way to have a bright space for chopping vegetables or reading a recipe on the countertop.
As you work with your custom home builder to design your kitchen, spend a little extra time thinking through your kitchen's flow and how you want it to function. Make sure you choose design elements that meet your individual needs and will look great.
Our experts at Prime1 Builders can help you create the kitchen of your dreams. We invite you to review our kitchen remodeling portfolio, or if you're ready to begin, contact us today.